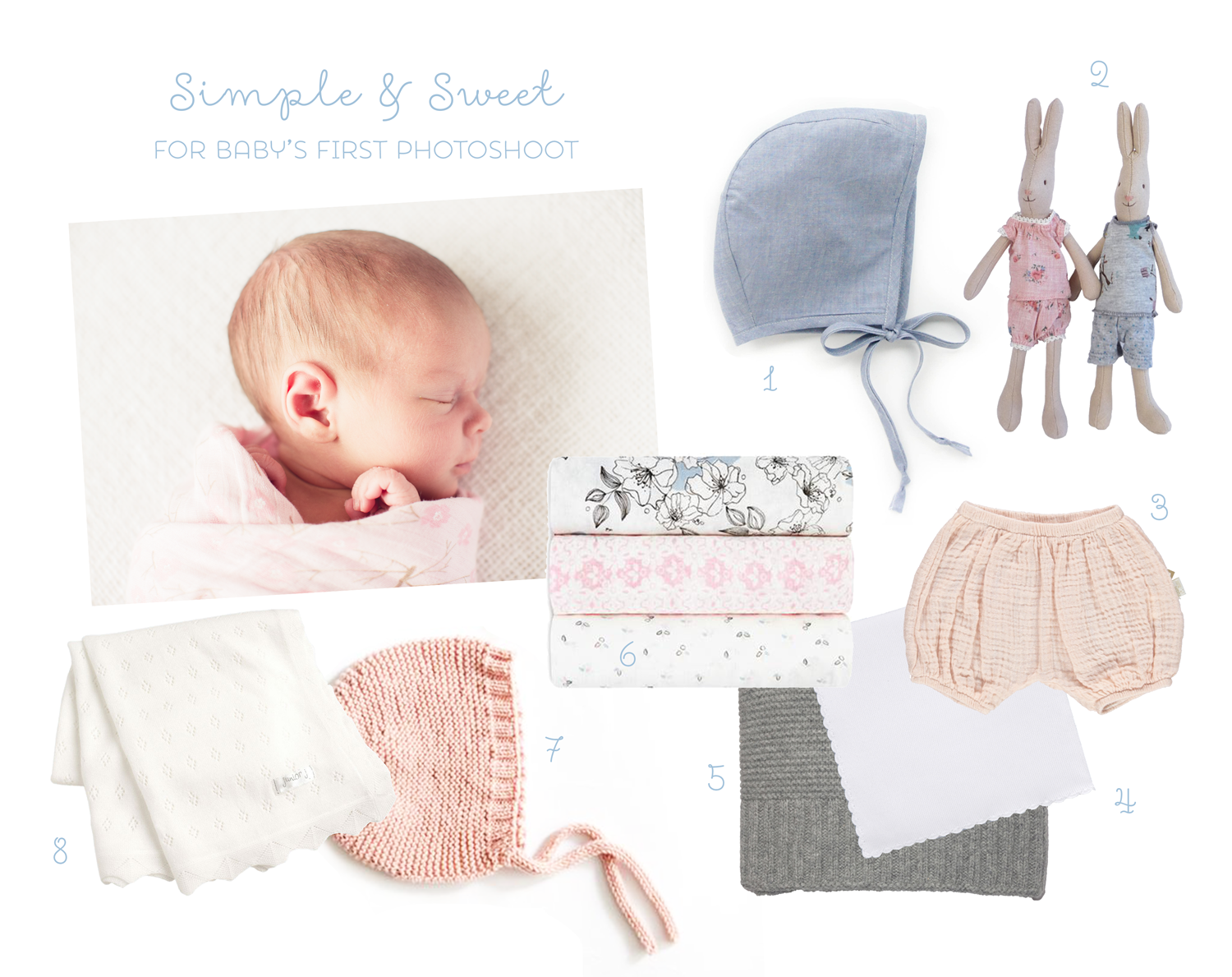 1. Oxford Light Blue Bonnet by Briar Handmade    2. Maileg Bunnies  3. Poudre Organic Bloomers  4. Scalloped Edge Baby Blanket by Jacadi  5.  Repose Ams Lambswool Blanket Available from Bontot 6. Bamboo Muslin Swaddles - Aden + Anais  7. 'Ava' Bonnet by Lille Lova Knits 8. White Knitted Blanket By Jasper Conran
Babies don't really need much at all for a photoshoot and when they are teeny tiny clothes can overwhelm them.  Newborn babies look gorgeous in nothing more than their birthday suit!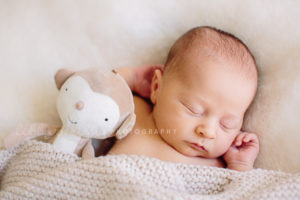 With that in mind, there are some beautiful accessories that can really add to an image and are wonderful to keep after your session - perhaps become heirloom items to hand down to the next generation.  I love the idea that when your baby is all grown up and looking at their baby portraits,  they will recognise a much-loved teddy or favourite blanket. 
There is something lovely about including a little soft toy in baby images. It can really help show how teeny they are and if you include them in later photographs it shows how much your baby has grown.
There are so many gorgeous dolls, bunnies and bears that work beautifully in baby images. Maileg make some incredibly sweet  bunnies and I also love these sweet Mini Rabbit Dolls - they have a lovely simple style that doesn't overwhelm an image and they are also suitable from birth so can be your baby's first toy!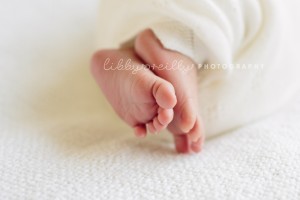 I love to include baby's own blankets in a shoot. When choosing blankets to include in your baby's photoshoot, it's a good idea to keep to plain light colours or a small print. Light pastels, beige and cream work really well and complement newborn skin tones. If in any doubt, a classic white or cream blanket is always classic and beautiful - this gorgeous blanket from Debenhams is lovely and soft to wrap around your baby and photographs so nicely.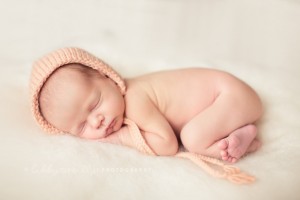 I always bring a selection of hats with me to your baby's shoot because there is just something so lovely about a little squishy newborn in a bonnet! There are lots of gorgeous knitted hats available to buy on Etsy - and with our Irish weather we get to use hats for most of the year so they are a good investment. Briar Hand Made also make gorgeous bonnets which works perfectly for baby boys and girls. Bear in mind that a lot of hats might be a little big on a newborn but they should be perfect for a baby a few months old.
Another of my favourite items is little bloomers and shorts. They cover nappies but still show off those lovely squishy legs and bellies. They work really well for babies a few months old  - especially when they are sitting up. Poudre Organic make gorgeous soft muslin bloomers in beautiful pastel colours and I've spotted some in Zara from time to time.
With all of these lovely baby goodies, it's worth remembering that the focus will be your gorgeous baby and nothing is going to be more lovely than they are! When I arrive for your baby's photoshoot I'll have everything with me so you don't need to worry about organising anything!